For many women, it's frustrating to spend at least 30 minutes on your makeup, only to notice an hour later that the redness on your cheeks and the dark circles under your eyes have reappeared. Even after many attempts at trying to even out your skin tone with foundation, concealer, and powder, you still can't achieve that smooth and seamless makeup look you see on models and actresses. Like, seriously, why isn't there a magical formula that will just leave your skin looking flawless all day?
While the such formula is yet to be sent to us by the makeup gods, there is an effective workaround on how to cover all your pimples, redness, and other imperfections (even though we all know you're gorgeous as you are already).
Enter: the color corrector concealer.
What are color-corrector concealers?
If you follow beauty YouTubers or makeup artists on Instagram, chances are they have tutorials on everything makeup related (like teaching you the basics of concealer vs. foundation). One of the much-buzzed-about new trends in the beauty world involves applying concealer in every shade of the rainbow.
Yep, that's right.
If you want to achieve even and flawless-looking skin with makeup, you have to start using color-corrector concealers that come in shades of orange, purple, green, pink, yellow, and blue.
But no, you're not going to look like a clown, I promise. Color correcting is a technique that makeup artists have been using for decades, way before social media got wind of the trend and it became mainstream. While I can't say what exactly kicked off the resurgence of the technique, MUAs and makeup enthusiasts alike have been stockpiling color corrector concealers, be it orange or green, in hopes that the rainbow tones will help mask various skin concerns.
However, getting it right the first time for the average person is not an easy feat. Read on to figure out which color of corrector concealer you'll need.
Types of color corrector concealers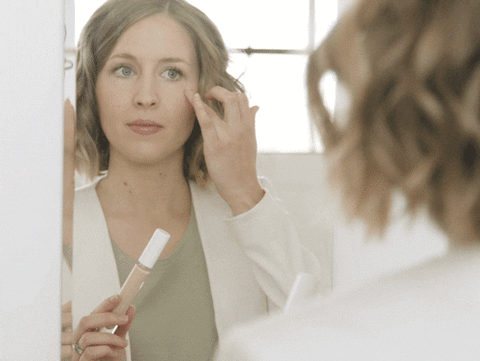 As a general rule, choosing the right corrector concealer for your skin boils down to two factors: color and consistency. To even out an extreme case of discoloration, you'll need a formula that's thick with an intense hue. But if you only have mild to moderate discoloration, you can cover it up with a lightweight formula that's not as intensely pigmented.
If you're not sure about which color of corrector concealer you'll need, refer to the makeup color wheel. Remember that complementary colors, or color pairings that are opposite on the wheel, cancel each other out.
Let's get down to the nitty-gritty of it.
Orange corrector concealer
The orange corrector concealer works best for medium to dark skin tones. It helps cover up bluish hues on your faces such as under-eye circles, dark spots, and signs of aging. For those who love staying up until the wee hours of the morning, using a concealer corrector in orange will help brighten up your face and make you look like you had 8 hours of sleep instead of 3. Magic, I tell you.
If you have lighter skin, avoid using an orange corrector and opt for a peach-colored one instead. For those with deeper skin tones, I recommend using the Urban Decay Naked Skin Shapeshifter Palette in Medium/Dark Shift. The corrector concealer has the perfect orange and red hues for covering dark spots and under-eye circles. The palette comes in cream and powder form.
Green corrector concealer
Green is opposite from red in the color wheel, so it's perfect for hiding any redness on your face, like acne scars, birthmarks, pimples, and other skin sensitivities.
If you struggle with an uneven skin tone, like having mild to moderate redness on your cheeks, opt for a green corrector concealer with light to medium coverage like Maybelline's Master Camo ™ Color Correcting Pen. If you have rosacea, it's better to invest in a full-coverage formula like the cult-favorite Teint Idole Ultra Camouflage Creator in Green from Lancôme to help battle those bright red hues.
Yellow corrector concealer
Like the orange corrector concealer, yellow correctors correct subtle blue and purple hues. They're usually used to correct issues such as mild skin sensitivities and broken capillaries. The color is especially great for lightening dark circles and under-eye shadows.
For the best results, apply a small amount of yellow corrector onto your under-eye region, creating a triangle shape. Blend the corrector concealer out with a brush or sponge. If you're a beginner, try using the Nyx HD Photogenic Concealer Wand in Pastel Yellow. It's easy to blend, correcting discoloration without looking obvious or cakey.
Violet/Purple corrector concealer
Contrary to orange corrector concealers that cover up dark spots, violet or purple correctors help neutralize any orange hues. They also help correct hyperpigmentation and tone down overly orange skin. So, if you're insecure about the yellow tones in your face, mix in a bit of purple concealer with your primer and apply the mixture under your foundation. One of the best ones in the market today is the Urban Decay Naked Skin Color Correcting Fluid in Lavender.
Pink corrector concealer
Pink hues counteract any yellow or subtle green discoloration. They're great for brightening up very olive and sallow skin. As they're known to add a dose of healthy color to your complexion, they'll help mask any signs of fatigue.
For best results, dab a pink concealer on your under-eye region and lids. Blend in well and set it with some loose powder. I recommend the Master Camo™ Color Correcting Pen in Pink from Maybelline. Its click packaging makes it portable and its cute cushion applicator has an airbrushed finish that looks smooth and seamless.
Blue corrector concealer
Did you recently have a fake tan disaster? Stop panicking and swipe a blue corrector on the affected areas. As blue is the opposite of orange on the color wheel, a blue concealer corrector can neutralize the orange tones in your skin. You can quickly and effectively counteract those Oompa Loompa-Esque pigments and achieve an even skin tone.
For recommendations, try REVEAL's Concentrated Color Correcting Drops in Blue. The blue microalgae and pigments work together to neutralize and color-correct sallow skin.
The dos & don'ts of applying color corrector concealer
Do choose the right colors or hues for your skin. The effectiveness of color concealers depends on finding the right tone to match your spots and blemishes. For instance, if you use an orange color corrector for your redness, it's not going to work! If ever you need guidance, just remember to refer to the color wheel.
Do apply thin layers. A thick layer of corrector concealer will show through your foundation and no one wants to look like they're working for the circus.
Do utilize a Beautyblender or a makeup sponge. Brushing the colors all over your face will move pigments into the wrong areas, undoing all your hard work. A makeup sponge or Beautyblender will effectively pat coverage into your skin.
Don't apply color corrector after concealer. Color correctors aren't the finishing touches to your makeup look. You should use them before applying your regular concealer so they are more seamless and natural when blended into your makeup base.
Don't use colors that you don't need. Color corrector concealers are meant to be used only on blemishes and discoloration that are noticeably strong in appearance. For smaller spots and blemishes that are less conspicuous, a regular concealer will do. As much as beauty products make us feel more confident about ourselves,

makeup is still bad for your skin

so it's always better to apply what you only need.
Don't use one color for everything. When correcting acne marks and discoloration, give each section of your face the attention it needs. What color corrects dark circles (yellow and orange corrector concealers) won't mask the redness caused by pimple marks or Rosacea (choose a green corrector instead).
Most importantly, DO remember that makeup should enhance your natural skin, not hide it! Don't forget to let your natural face shine. Think of color-corrector concealers as a fun extra step that you use to make you more confident in the skin you're in.
Do I really need a color-corrector concealer?
I'll cut down to the chase: Yes, you do. I mean, I didn't just let you read an entire article about corrector concealers, only to debunk their magical wonders.
Even the most high-coverage foundations and heavy-duty concealers struggle to keep discoloration at bay and that's where color correctors come into play. They might look and sound intimidating at first, but they're honestly the most effective anti-discoloration makeup tools out there. They're also surprisingly easy to use once you've learned the proper application techniques.
Yes, they add another step to your makeup routine, but the payoff is worth the extra 10 or 15 minutes, especially if you struggle with skin discoloration and dark circles.
Remember, makeup is supposed to make us feel more confident about the way we look. It's better to go all the way than skip a step that will make us insecure about our imperfections.