While makeup allows men and women the creative freedom to do what they want, there are some rules all need to follow for a flattering look. To name a few: don't slather on foundation with a totally different skin tone to look more tanned; only use lipstick on your lip area; use lip balm (or ChapStick) before any lip product to keep the moisture; and apply mascara properly to avoid clumping.
But one rule in eye makeup has confused many: do you put eyeliner or eyeshadow first? Some say eyeliner goes first, while others say eyeshadow. In truth, there's no hard rule on whether eye shadow or eyeliner goes first. But here's the advantages to doing it one way or the other so that you can decide which method works best for you.
Overview: Eyeliner and Eyeshadow
Eyeliner and eyeshadow are two eye makeup products that are meant to make the eyes pop and standout. Quality eye makeup products are safe to use near the eyes as long as they're clean and used before their expiry date. Since these makeup products are used near the eye area, it's strongly recommended that you don't share your eyeliner or eyeshadow with anyone else, as this can cause cross-contamination. If you really have to share, make sure you disinfect the applicator or the makeup.
Before going to bed, you should remove your makeup with makeup wipes or with a makeup remover to avoid getting pimples. If you don't have makeup remover, here's how to remove makeup without makeup remover.
What Is Eyeliner?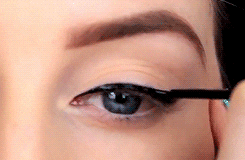 Eyeliner defines the eyes by highlighting the area around it. Eyeliner can be used to contour your eyes in different ways, making it look bigger, smaller, wider, or more narrow, depending on your normal eye shape. Eyeliner comes in multiple forms: liquid pen, pencil, or a gel pot that requires additional brushes for application. While eyeliner is generally black, you can also find eyeliner in blue, turquoise, white, and other colors. You can purchase eyeliner in your local drugstore, cosmetic store, or supermarket.
The use of eyeliner dates back to the Ancient Egypt Civilization, where eyeliner was used for both aesthetics and to protect the eyes' skin from the sun. It was also meant to protect people from the curse of the evil eye. While eyeliner was originally made with kohl, it was also made with materials like copper ore and antimony, so it was no surprise that people were getting sick from the galena (a form of lead) in the makeup. Fortunately, today's eyeliners do not have lead and are made from safer materials, making them generally safe to wear near the eyes.
What Is Eyeshadow?
While eyeliner is placed around the eyes, eyeshadow is applied on the eyelids and under the eyes. Eyeshadow is available in a wide range of colors, with nearly every shade in the rainbow available. You can wear one or more eyeshadow color, but for multiple colors, you'll want to blend the colors together for a gradient effect. More natural colors are meant to subtly highlight the eyes or help with eye contouring, while bolder colors make the eyes stand out and look more attractive. You can control how much or how little eyeshadow you want.
Eyeshadow can have different finishes (e.g. glittery, metallic, matte, normal). Eyeshadow normally comes in powder form, but beauty companies have recently come up with eyeshadow in liquid, pencil, and cream form. It can be applied with your fingers, but some eyeshadow palettes come with an applicator. If it doesn't, then you'll need to purchase either one all-purpose eyeshadow brush or multiple eyeshadow brushes that provide different effects.
Eyeshadow also dates back to the Ancient Egyptian Civilization, as it was used in Egyptian burials as early as 10,000 BC. It was popular among theater actors as bold eyeshadow could highlight their eyes and the expression they conveyed. During the Victorian era, eyeshadow was seen as vulgar, so the less you wore, the more well-respected you were.
How to Apply Eyeliner and Eyeshadow
Eyeliner and eyeshadow can be used on their own, together, or applied with other eye makeup like mascara, fake lashes, and eyebrow makeup. Personally speaking, eyeliner is much more difficult to apply than eyeshadow specially if you're going for a clean, crisp, and sharp look with liquid eyeliner. This may also be difficult matching both eyes with eyeliner, especially if you want equal eyeliner. The applications are different depending on what kind of eyeliner you use, but whether you're using pencil, liquid pen, or a pot and brush, here's the general way to apply an everyday eyeliner.
For eyeshadow, it depends on what kind of look you're going for, what and how many colors you're using, and what kind of brush or brushes you're using. But here's a basic tutorial on how to apply eyeshadow for beginners.
Applying Eyeliner Before Eyeshadow
This is my personal preference, and here's why. Eyeliner is more difficult to apply than eyeshadow for a number of reasons. When I make a mistake with eyeshadow that can not be simply drawn over, I have to remove it with makeup remover. I can be careful and use a cotton swab, but because of the size of cotton swabs, a part of it is going to rub over my eyelid. So, if I put on eyeshadow first, part of the eyeshadow would also be removed. This can be an inconvenience because I'll have to apply eyeshadow to that area again, but I'll have to remove everything and start from square one if my eyeshadow is gradient.
But if you start with eyeliner first, you can get the most difficult part of eye makeup over with before moving on to eyeshadow. If you mess up eyeshadow, it's easy to simply trace over eyeliner or remove the eyeshadow without getting your eyeliner. Also, if you're using a liquid eyeliner pen and powdered eyeshadow, the powder can transfer to the tip of your pen, smudging it with color.
Applying Eyeshadow Before Eyeliner
Many people have their own reasons for preferring to put on eyeshadow before eyeliner. If you're using eyeliner pencil, it won't really affect the quality of your makeup if you apply it before or after. And those with liquid eyeliner prefer to put eyeshadow first before applying after makes their lines less sharp.
Overall, however, it really prefers on your preference and what is more convenient for you during your makeup routine. Try doing both methods to see which one works for you and your style better.
Comparison of Eyeshadow and Eyeliner
Eyeshadow and eyeliner are the most popular makeup products to enhance the eyes. While they have similarities in the application, some key differences can help determine which is right for you.
Eyeshadow and its Uses
The significant advantage of using eyeshadow is its incredible versatility. With eyeliner, you're restricted to just outlining your eye's natural shape. However, with eyeshadow, you can transform any look into a new one by redefining your eye shape!

Eye shadow offers more uses than eyeliner, making it the wiser choice if you are limited to one or the other. You could use eye shadow as an eyeliner and mix it with petroleum jelly to create lip gloss. Plus, eye shadow can also fill eyebrows, contour blushes, highlighters, and so much more! With all these ways of using eyeshadow, why not make this versatile product your go-to cosmetic item?
Eyeliner and its Uses
Eyeliners are an essential cosmetics product that enhances the look of your eyes by precisely applying color to accentuate and define them. They contain special ingredients to ensure precise application around delicate skin and anti-microbial agents to guarantee safe use.
Eyeliner is an indispensable tool of daily makeup, allowing you to bring out and emphasize your eye shape. From winged eyeliners for drama at the waterline for definition, this versatile product can help create unique looks per your style!
Eyeliner can emphasize the upper or lower lash line and even along your waterlines. Its primary goal is to make eyelashes appear lush, yet it also draws attention to the eyes by highlighting or adjusting their shape. You can also use vitamin E oil for eyelashes to enhance them.
Whether you're a fan of eyeliner, eyeshadow, lip balms, or brushes, the stylish and functional bags are designed to accommodate all your makeup needs. They offer ample space and clever compartments to store your favorite items. With dedicated pockets and dividers, you can keep your items neatly separated and prevent messy spills or smudges. You can also use them to carry small accessories like coins or jewelry, making them perfect for travel or everyday use. Not only are these bags practical, but they also exude style and sophistication. Crafted from high-quality materials, they boast durability and are available in various trendy designs and colors to suit your taste.
Say goodbye to rummaging through your purse or suitcase for your makeup essentials. Invest in a reliable and fashionable makeup bag that keeps everything in one place, ensuring you're always prepared to enhance your beauty on the go.
Eyeliner And An Eyeshadow: Which Is Better?
Eyeliner is different from eyeshadow – its shade is far more intense. It's typically applied on the lashline and provides a powerful, dramatic look compared to powder shadow, giving a subtle vibe. Pencil eyeliners are also quite captivating but less pronounced than liquid ones. Thus, you can use eyeshadow anywhere from your lids to your eyebrows or lower lashes for an ever-so-soft finish!
With abundant colors available for eyeshadow, the creative options are limitless! From pearly and shimmery to glittery and matte – there's something special about having so many textures in one product. Additionally, applying shadow on different areas of your face can grant you several unique looks. The biggest bonus is that while most eyeliners come in only the matte variety, eyeshadows provide more diversity than you could imagine!
Applying eyeshadow and eyeliner
Eyeliner is usually darker in the shade than eyeshadow and more suitable for lining the eyelid near your lashes. Using powder eyeshadow gives your makeup a softer look. But liquid eyeliners are renowned for creating an intense, dramatic effect – if you want something less bold, pencil liner can be used instead. To get complete coverage with eyeshadow, it should be applied from lashline to browbone, into the corners of your eye, and along lower lashes too!
Do you put eyeliner or eyeshadow first?
When it comes to eyeshadows and eyeliners, the perfect order is eye shadow first, followed by your liner. It's a clear-cut logic that you may not have realized before now. Here are the specifics: If you apply the eyeliner before applying eyeshadow, your eye makeup will be obscured and muted since powdery shadows can cover up or soften its effects. You'll instantly see why this simple solution makes all of the difference!
Use eye shadows before applying your eyeliner if you want a polished look. Doing this helps both products stay sharp and crisp, not muddled together. Keep reading to discover the best technique for utilizing eye shadow and eyeliner!
Applying the Eyeliner First
If you're aiming for a sultry, smoky look, start by precisely lining your lash lines with a pencil or gel. Then take an eye shadow brush and blend the lined areas outwards towards your crease, as this makes an ideal base for stronger pigment. You can vary the intensity of color depending on how intense you want to go!
Applying the Eyeshadow First
To get the classic cat-eye look, apply your desired eye shadow. Then trace two wings with a pencil liner and repeat them with a liquid or gel to make them sharp and defined. Doing the liner last will seal in that perfect feline finish!
20 Tips to Use Eyeliner and Eyeshadow Effectively

Using eyeliner or eyeshadow can turn you into a makeup master! To perfect your eye makeup skills, remember the following tips:
Using an Eyeshadow
Invest wisely in the finest brushes.

Cleaning your eyeshadow brushes is critical to promoting a healthy complexion.

Select your eyeshadow formulation properly.

An eyeshadow primer provides an ideal surface to apply your eye makeup.

Understanding the precise parts of your eye that each section of the eyeshadow palette corresponds to is essential for achieving a flawless makeup look.

Take a leap of faith and be daring with your style, yet always ensure that the overall appearance is harmonious.

Experimenting can help uncover the colors that best bring out your eye color.

Identify your eye shape to discover the best shade for your features and emphasize your natural beauty.

Perfectly blended edges are the key to achieving an impeccable eyeshadow look and avoiding a makeup disaster.

Maximize the longevity of your makeup by spritzing a setting spray to seal in your look.

Enhance your eyes by adding a touch of color to the inner corners, artfully extending it outward along the natural eye lines.
Using an Eyeliner Together
When prepping for any task, always be sure to sharpen your pencil – this will make the process simpler and smoother.

Gently brush a hint of color to your temples and create an understated, delicate wing.

Select a soft pencil liner in one of the following muted shades: charcoal gray, soft brown, or bronze to create a subtle look.

Step out of your comfort zone and choose a classic pencil eyeliner color with an added twist – think navy, deep green, or even purple.

Begin the application at your eyelashes' innermost corners, and use your lower lash line as a reference point.

Draw a thicker line of color close to the lash line for added dimension.
Using an Eyeliner and Eyeshadow Together
To create a perfect line along your eyelids, use a liquid or gel eyeliner brush with a pointed tip after applying the eyeshadow. This will ensure you achieve precise lining of your eyes.

To achieve the perfect eye look, eyeliner should be swept along your upper lash line, and eyeshadow blended into the crease of your eyelid.

Combining eyeliner and eyeshadow palettes is an excellent method to craft your makeup looks. You could use both products together to create an even bold, smoky eye appearance!



Bottom Line
No matter what look you're going for, it is essential to remember the order in which eyeliner and eyeshadow should be applied. Apply your eyeliner first for a bolder eye makeup look, then blend out with an eyeshadow brush. If you are looking for something more subtle, start using your desired eyeshadow, then trace two wings on top of that with a pencil liner or liquid/gel liner. With these tips and tricks, anyone can create beautiful and captivating looks using both products together! So take the plunge into perfecting your eye makeup routine today – you'll likely love the results!