Whether you prefer to keep your beauty routine simple with just a little lip gloss and mascara, or you like applying several layers of high-coverage foundation, at the end of the day, you've got to get that all that goop off of your face, especially since some makeup can be bad for your skin.
While there are countless makeup removers in the market, from good old Pond's cold cream to high-end products such as Lancôme's Bi-Facil, some beauty gurus have discovered a product that gets the job done and costs less than five dollar: Johnson's Baby Oil.
Baby Oil as Makeup Remover
Yep, that's right. For many years now, women all over the world have been using Johnson's baby oil as their makeup remover. While we don't know who first discovered its makeup removal abilities, using baby oil has been touted as a good way to remove eye makeup and foundation residue.
Let's find out what makes baby oil an effective makeup remover by checking out its ingredients.
What Is Baby Oil Made Of?
Baby oil only has two ingredients: 98% pure mineral oil and 2%  fragrance. Mineral oil is an odorless and colorless petroleum derivative that has been a mainstay ingredient in healing and moisturizing skincare products. It seals moisture into the skin, protecting it from outside elements like pollution and wind.
Mineral oil is the reason why baby oil is considered a fantastic moisturizer. Since it locks in moisture, it softens and hydrates the skin. Baby oil is also often used to prevent or treat dry, scaly, itchy, and rough skin as well as minor skin irritations like diaper rash.
Its ultra-moisturizing properties is also what makes it an effective makeup remover. Baby oil is especially effective to use when removing eye makeup such as waterproof mascara and eyeliner. As it's silky smooth, it doesn't require a lot of scrubbing which should be avoided around delicate areas like the eyes.
How to Remove Makeup with Baby Oil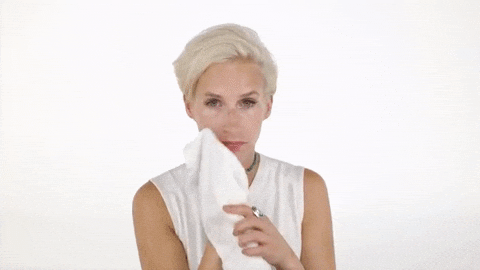 Using baby oil to remove makeup is pretty simple. Just follow the steps below:
Pour 2-3 drops of baby oil on a cotton pad or a cotton ball.
Start with your eye makeup. Rub the cotton gently over your eyelid, eyelashes, and under your eyes to remove your eye shadow, mascara, eyeliner, and whatever other eye makeup products you've used.
Take another piece of cotton pad or cotton ball. Put some baby oil on it. Gently rub it all over your face and lips. After you've finished taking all the makeup off, wipe your face with a clean pad.
Afterwards, use a cleanser to remove the excess oil and the grease off your face.
Is Using Baby Oil as Makeup Remover Safe?
If baby oil is such a cost-effective makeup remover, why doesn't everyone use baby oil all the time?
Well, mineral oil is deemed a controversial skin care ingredient, so many people tend to avoid using it. But, according to experts, mineral oil isn't toxic and is actually recommended for certain uses. It works well as an emollient, which means it softens or soothes the skin. It can therefore be used to treat dry skin, scalp dandruff, burns, psoriasis and other skin irritations. Mineral oil is also regulated by the FDA, and is highly refined and purified when used as a baby oil ingredient. In its best form, it's completely safe to use on your skin.
But is it safe to use baby oil as a makeup remover? Well, it depends on how you use it. If you just use baby oil to remove eye makeup, go ahead. It's as safe as it can be, except if you're actually allergic to mineral oil and the fragrances used.
But if your skin is acne-prone and sensitive, it's best to steer clear from using baby oil as a makeup remover for your entire face. While baby oil can't directly clog your pores, it can form a thick layer that will prevent natural cell turnover and cause breakouts. So, if you're prone to pimples, proceed with caution unless you just want to use baby oil as a lip and eye makeup remover.
Natural Alternatives to Baby Oil as Makeup Remover
If you're iffy about putting baby oil on your face due to the mineral oil content, here are other natural makeup remover options:
Coconut oil
Coconut oil is not only effective and safe to use when cleansing your face, it also moisturizes and smoothens your skin, leaving it softer and younger-looking.
How to use coconut oil as makeup remover: When using it, skip the cotton pads and abrasive washcloths. Simply scoop out a pea-sized amount and rub it between your fingers before gently rubbing the product all over your skin. Once the makeup has been sufficiently melted away, rinse your face with warm water.
Sweet almond oil
Sweet almond oil isn't as common as coconut oil but it's just as effective at removing makeup. As it doesn't have a thick and heavy consistency, it glides on the skin smoothly without leaving an oily residue. It also suits all skin types (oily, dry, combination, normal, and sensitive).
How to use almond oil as makeup remover: Pour a few drops onto your fingertips and massage the oil on your face gently. Wipe the excess with a clean cloth. Since almond oil has many skin benefits, you don't have to wash it off after removing your makeup. You can leave the oil to seep into your skin and let it work its magic.
Jojoba oil
Jojoba oil is a very gentle oil and suitable for all skin types. It's also non-comedogenic, so it won't clog your pores.  It's believed that jojoba oil can also stimulate collagen production, moisturize the skin, and control sebum production. If you don't know where to find jojoba oil, try Whole Foods or the health aisle of your favorite grocery store.
How to use jojoba oil as makeup remover: To remove your makeup, add a few drops of the oil to your fingertips and then massage all over your face and eyes. Wipe the excess oil with a cotton ball or a clean cloth. When all makeup traces are removed, rinse your face with warm water or with your favorite cleanser.
Olive oil
Your kitchen pantry is getting quite a workout in your bathroom, eh?
Olive oil has been a key player in natural beauty routines for a long time. Oil is a powerful antioxidant, and it's packed with anti-aging and antibacterial abilities. It's also loaded with Vitamins A, E, D, and K, which can smoothen the skin, protect it, and prevent symptoms of premature aging.
How to use olive oil as makeup remover: To remove your makeup with olive oil, follow the same steps as jojoba oil.
Witch hazel
Unlike the makeup remover alternatives mentioned above, with hazel is a thin and watery ingredient. Although it's widely used in cosmetics for relieving acne symptoms and tightening the skin, witch hazel also has the ability to remove oil-based and water-based makeup with a few, simple swipes.
How to use witch hazel as makeup remover: Apply witch hazel to a cotton pad and gently swipe the pad on your face. Make sure that you swipe in the same direction. Once your makeup is removed, wash your face with your favorite cleanser.
Other Ways to Add Baby Oil to Your Beauty Routine Without Harming Your Skin
Even if baby oil isn't entirely safe to use as a makeup remover, you can still incorporate it in your beauty routine.
Clean and condition your makeup brushes
If your makeup brushes are made of natural hair, they need to be regularly conditioned, about once every other week. Baby oil is the perfect product for this due to its moisturizing elements.
To cleanse and condition your brushes, start by applying a few drops of baby oil into the palm of your hand. Swish and swirl your brush around. Once you've thoroughly cleansed the brush, rinse it off with warm water. Afterwards, gently press and then lay the brushes flat until the bristles are completely dry.
Tip: Always lay the brushes flat when drying them. Letting them dry bristles-down will disrupt their natural shape. Drying them bristles-up will allow water to trickle into the ferrules and shorten your brush's life.
Prep your shave
If you want to soften your hairs before shaving them off (especially when they're extra spiky under your warms or down under), then slather some baby oil on your skin beforehand to minimize shaving rash and help the razor slide more easily.
Smooth parched ends of your hair
You can apply baby oil on your dry ends to give them a boost. They'll instantly become glossier, softer, and healthier looking.
Just make sure you don't apply the oil directly to your hair, as it can weigh the strands down and make them look greasy. What you can do is apply a few drops on some tissue or cotton pad. Then, pull your hair through the lightly soaked tissue or pad. Let the baby oil soak into the strands for a few minutes and then style your hair as normal.
If you do a little digging online, you'll find a lot of people who are pretty happy using baby oil as a makeup remover. However, there are also claims that it's not entirely safe to use in removing makeup from your face. The eyes and lips, maybe, but putting it on your face every night can lead to clogged pores and breakouts.
But, aside from baby oil, there are also plenty of natural alternatives if you don't like the chemicals present in commercial makeup removers. It's all just a matter of finding the one that suits your skin the most.
Additionally, baby oil isn't evil! When used moderately, it has awesome moisturizing benefits to the skin. It also has uses other than just as a moisturizer, so one bottle of Johnson's baby oil is worth your bucks. Like all other beauty products, just know the risks you're taking when you choose to put them on your skin.